Back to Newsletter
2010, June 1st
Six months after Mr. Claus started his first 'assistant teacher' training course, the first group has successfully finished the course. The six participants are now part of the Mekong English Centre teaching team and under guidance of Mr. Claus, teach their own classes.
These classes are both given at the Centre as well as on location at local hotels where our new teachers teach 'applied' English to hotel staff under supervision of MEC's Suzy Young, who runs our recently established 'outsource' wing.
Moreover, there now exists a cooperation between the Mekong English Centre and the local Souphanouvong Universtiy. MEC has been asked to organize extra English classes at the university to meet popular demand for this. As we speak, Mr. Claus is applying his successful approach on the university premises. As many of our MEC students study at Souphanouvong, Mr. Claus knows pretty much what he's dealing with.
Back at the MEC classes run as usual and better. With our new local teachers the number of beginner classes will increase and Mr. Marcel is proud of his advanced students as he is of the ELK foundation in Holland and a handful of individuals through which now more than half of his 60 students are being sponsored. Thank you for your support (and putting up with my lack of feedback on 'your' student).
With the current changes to our centre, it has also been decided that there will be digital change. A new website is being developed 'as we speak'. The current address will expire this month.
After 22 June our site will be accessible on: www.mec-laos.org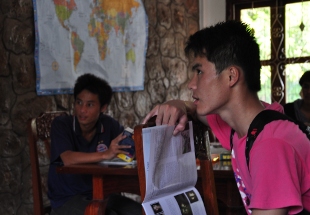 Archive